PLATOON will organise a Supportive Partners Programme to build online communities. This programme targets entities from across Europe, such as start-up communities, accelerators, governments, programmes and more to help PLATOON to empower innovation and entrepreneurship in the crossroads of ICT and energy and connect the ecosystem. The Supportive Partners are stakeholders interested in signing a Letter of Engagement to disseminate the project in a win-win cooperation mode.
Below, there is a list presenting our PLATOON Supportive Partners:
Logo
Name
Brief Description
BDVA
The Big Data Value Association (BDVA) is an industry-driven international not–for-profit organisation with more than 200 members all over Europe and a well-balanced composition of large, small, and medium-sized industries as well as research and user organizations. BDVA is the private counterpart to the EU Commission to implement the Big Data Value PPP program. BDVA and the Big Data Value PPP pursue a common shared vision of positioning Europe as the world leader in the creation of Big Data Value.

The mission of the BDVA is to develop the Innovation Ecosystem that will enable the data and AI-driven digital transformation in Europe delivering maximum economic and societal benefit, and, achieving and sustaining Europe's leadership on Big Data Value creation and Artificial Intelligence.
BerriUp
BerriUp Aceleradora de Startups is the first private startup accelerator in the Basque Country. The Donostia-based company, founded in 2015, seeks to support entrepreneurs in launching their projects on the market by accompanying them in the process of validating the business, collaborating with institutional initiatives in the public sector.
EIT Inno Energy
EIT InnoEnergy is the leading engine for innovation and entrepreneurship in sustainable energy, across Europe and beyond.

EIT InnoEnergy has invested in and provided added value services to some 300 sustainable energy related innovators; of those 20+ are across the hydrogen value chain; and some 40+ in renewable generation, a key component to green hydrogen. Following the mandate of the EU Commission, EIT InnoEnergy is leading the industrial stream of the European Battery Alliance since 2017, a European Commission initiative to build a strong and competitive European battery industry; and with this EGHAC initiative aims at replicating that success in the green hydrogen revolution.

EIT InnoEnergy supports and invests in innovation at every stage of the journey, leveraging its unique trusted specialised ecosystem of 600+ partners in sustainable energy (entrepreneurs, businesses, corporates, researchers, investors, Universities and public administration). EIT InnoEnergy has invested 560M€ since 2010, anchoring 4 additional Billion €. InnoEnergy was established in 2010 and is supported by the European Institute of Innovation and Technology (EIT).
SZ REDA
Stara Zagora Regional Economic Development Agency, SZ REDA, was established in 1995 as a non-profit organization for the public benefit. The main objective of SZ REDA is to support the development and implementation of mechanisms to manage the process of successful integration into the European community of local and regional authorities and businesses in the region through policies development at a regional and local level aimed at sustainable development and stimulate economic development. For its 25-years history SZ REDA has successfully implemented over 70 projects in various programs and established as a reliable international partner.
Tenerrdis
Tenerrdis Energy Cluster supports sustainable economic growth in the new energy technology industries and coordinates a network spanning industry, government, academia, and scientific research to address the challenges of the energy transition.
Vestbee
Vestbee is the biggest online matchmaking platform for startups and scaleups in Central & Eastern Europe supported by the global community of VC funds, corporates, business angels and accelerators such as Amazon, HubSpot, InnoEnergy, Engie, Credo Ventures, Next Road Ventures, Tera Ventures, EIT Digital or SABIC. Being the regional pioneer in online startup events, Vestbee hosts CEE Startup & Scaleup Challenges, the biggest 100% ONLINE competitions in Central & Eastern Europe. Vestbee also provides tools for startups to manage fundraising in one place, and for investors, corporates and accelerators- to manage deal flow, applications, innovation programs and thanks to Startup Virtual Showroom, online matchmaking.
WeSmart
WeSmart is a Belgium scale-up founded by specialists with a long experience in the energy and environment sector that has developed a digital platform "as a service" to fully manage energy communities.

2 European Union directives make it now possible to produce, consume and share energy at a local scale by bringing together consumers and producers as participants in what is known as an energy community (EC). By 2025 WeSmart forecasts to offer our solution to 500 ECs.

WeSmart brings together human intelligence, collective participation and technologies to reduce energy consumption and carbon emissions. Also, WeSmart is participating in the energy revolution by providing solutions for energy communities.
Ambassadors are experts, with a clear reputation, strong connections with companies, universities, governments and the start-up ecosystem in Europe and with a proven previous experience in big data and energy sectors. The PLATOON project objective is to activate a pool of supportive partners leveraging on the identified stakeholders to become PLATOON Ambassadors. The Ambassador Programme will be paramount to shape and give live to the PLATOON community. This programme will be key to create a crowd knowledge base repository and a thrilling and active community.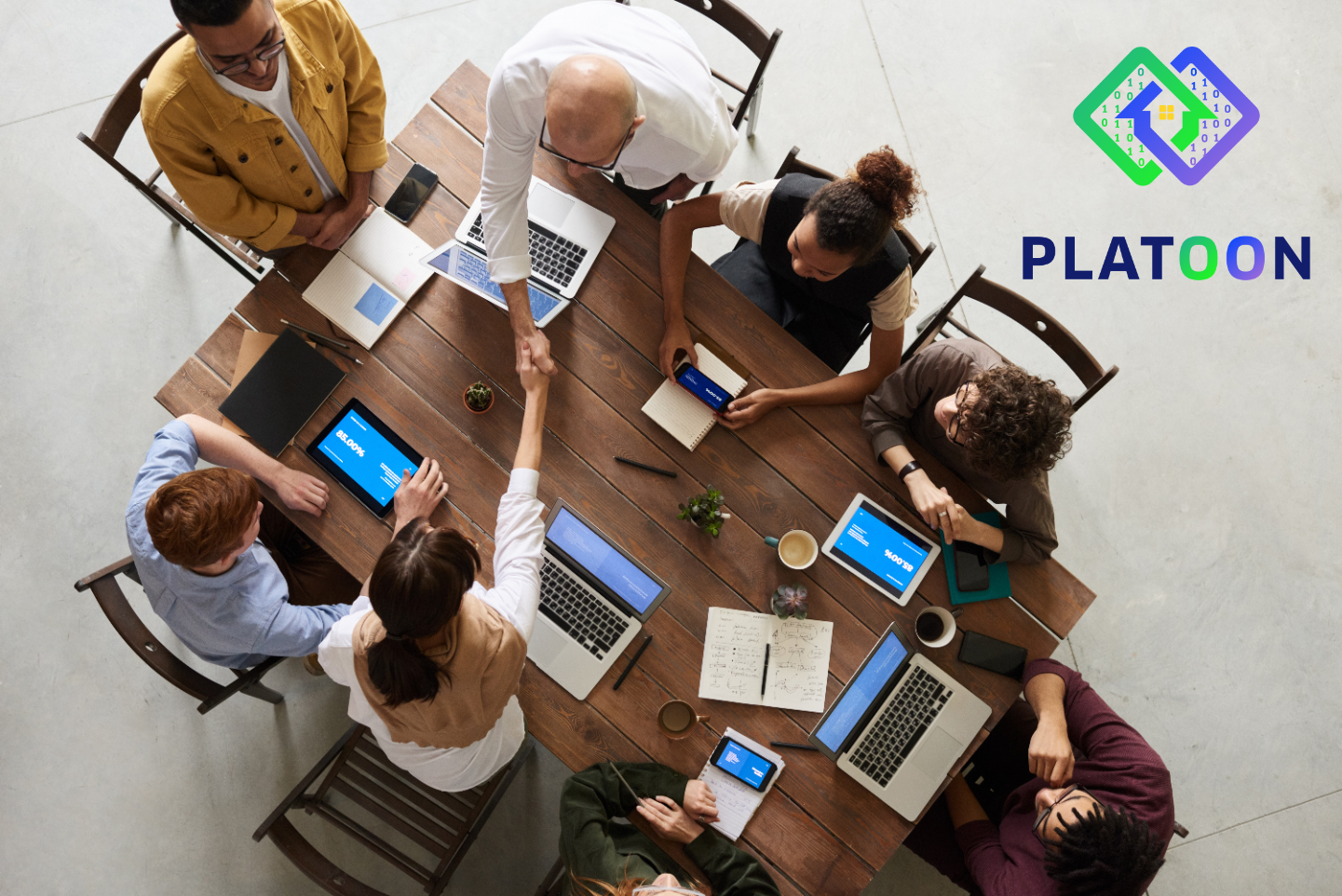 More updates on PLATOON Supportive Partners & Ambassadors are coming soon. Stay tuned!