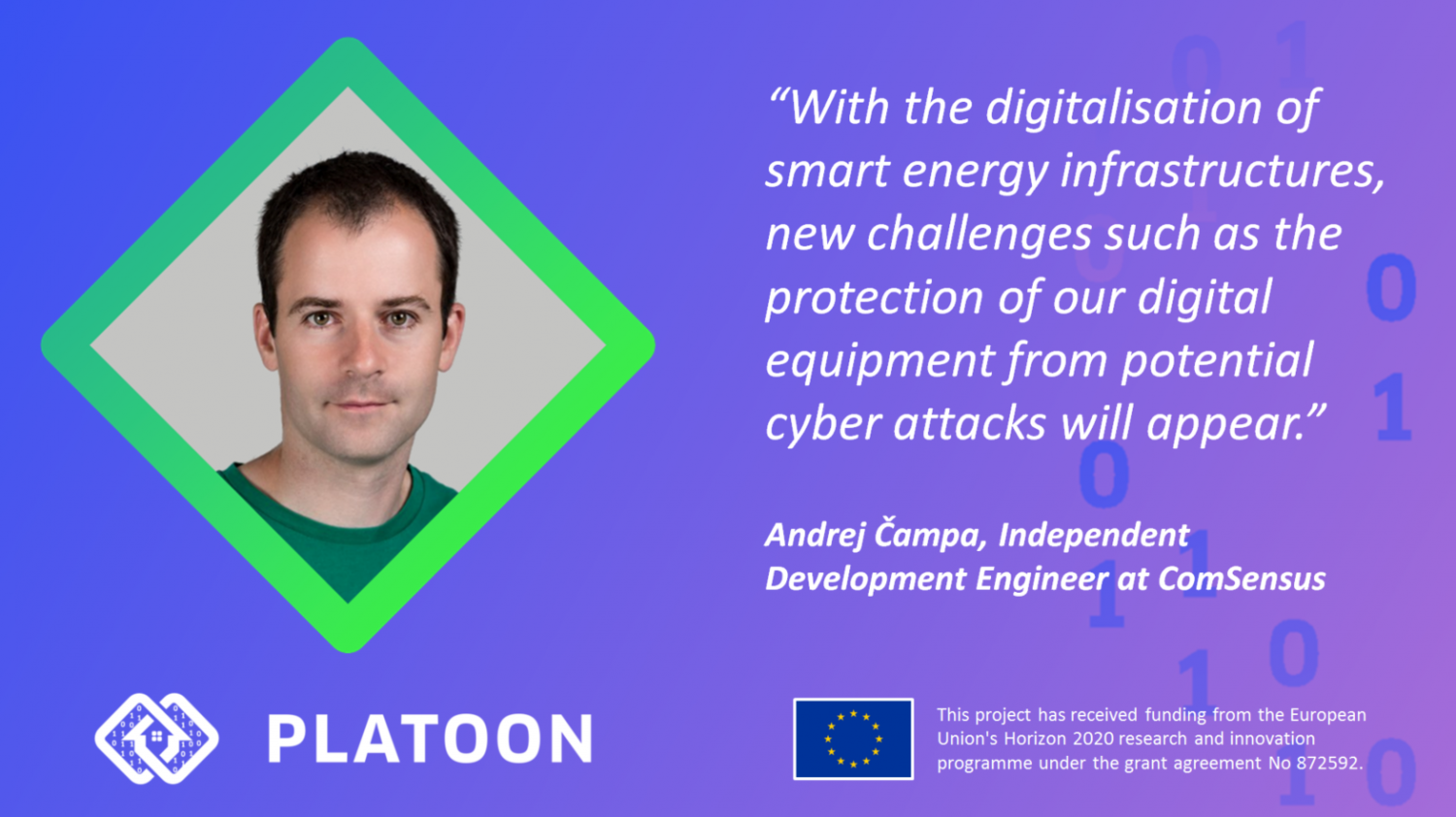 Andrej Čampa received his PhD in Electrical Engineering from the University of Ljubljana in 2009. He joined ComSensus in 2019 as a Senior Researcher, focusing on the development, performance evaluation and implementation of advanced mathematical algorithms targeted to embedded systems used in the energy sector.
Andrej, what is your organisation's role in PLATOON?
We at ComSensus are responsible for distributive edge computing. Our primary role is to offload and redistribute the traditionally centralized computationally demanding tasks and thereby improve the service response time as well as offload the communication networks. In addition, we are contributing to the development of data analytic services and solutions evaluation in pilots.
How does PLATOON relate with you and your team's background and interests?
In the frame of the past and ongoing projects, we have developed a synchrophasor and power quality measurement devices and edge computing platform. By cooperating with different EU pilots in PLATOON, we aim to define and validate use cases for using our solutions, to learn from them, and to propose specific refinements of mathematical algorithms as a response to identified requirements.
How will PLATOON digitalise and contribute to the development of the energy sector (e.g. with big data, edge computing and AI) in your opinion?
In my opinion, the data is not systematically collected on such a diverse scope as offered by many pilots in PLATOON. Different stakeholders, different countries' specifics and so many different local behaviors will provide the participants and the wider community excellent opportunities to better understand the role and required implementation form of a big data system. This will enable us to make appropriate modifications and find new solutions that will address not only local problems but also global challenges.
Which stakeholder groups can benefit from PLATOON?
Especially the power grid operators and energy market stakeholders. And, indirectly, also the energy end users.
How do you expect that the energy sector will be in the future?
By utilizing the big data knowledge, the response time in case of disturbance detection will be shorter and also locally isolated in an autonomous manner, minimizing the time and number of affected users. It is also reasonable to mention here the important role of the blockchain and other cyber security mechanisms for the future of the energy sector to protect the electric power and energy systems of cyberattacks and external threats.
Which are the most significant challenges and opportunities related to the digitalisation of the energy sector in your opinion?
The time and money the grid operators have to invest in digitalisation. Since this field is still quite new, the smart selection of meaningful and valuable data is of great importance. Additionally, the lack of big data experts with the background and domain knowledge of the energy sector is an obstacle. With the digitalisation of smart energy infrastructures, new challenges such as the protection of our digital equipment from potential cyber attacks will appear. Therefore, new high-tech jobs will be created in the near future in order to cover the upcoming challenges.
What are your expectations of the PLATOON project?
To widen our perspective, to offer us a unique environment to try, test, and develop new solutions together with other participants. To be prepared for a significant shift in energy grid management, also driven by the big data real-time analysis.
Thank you, Andrej, for this interesting interview!