La 2° Open Call PLATOON distribuirà € 1 050 000 tra 7 progetti bottom-up per estendere i prodotti/servizi esistenti, integrandoli nell'ecosistema PLATOON e convalidandoli nei progetti pilota di PLATOON.
7 PMI entreranno nel Programma di Supporto PLATOON beneficiando dei servizi di consulenza tecnica.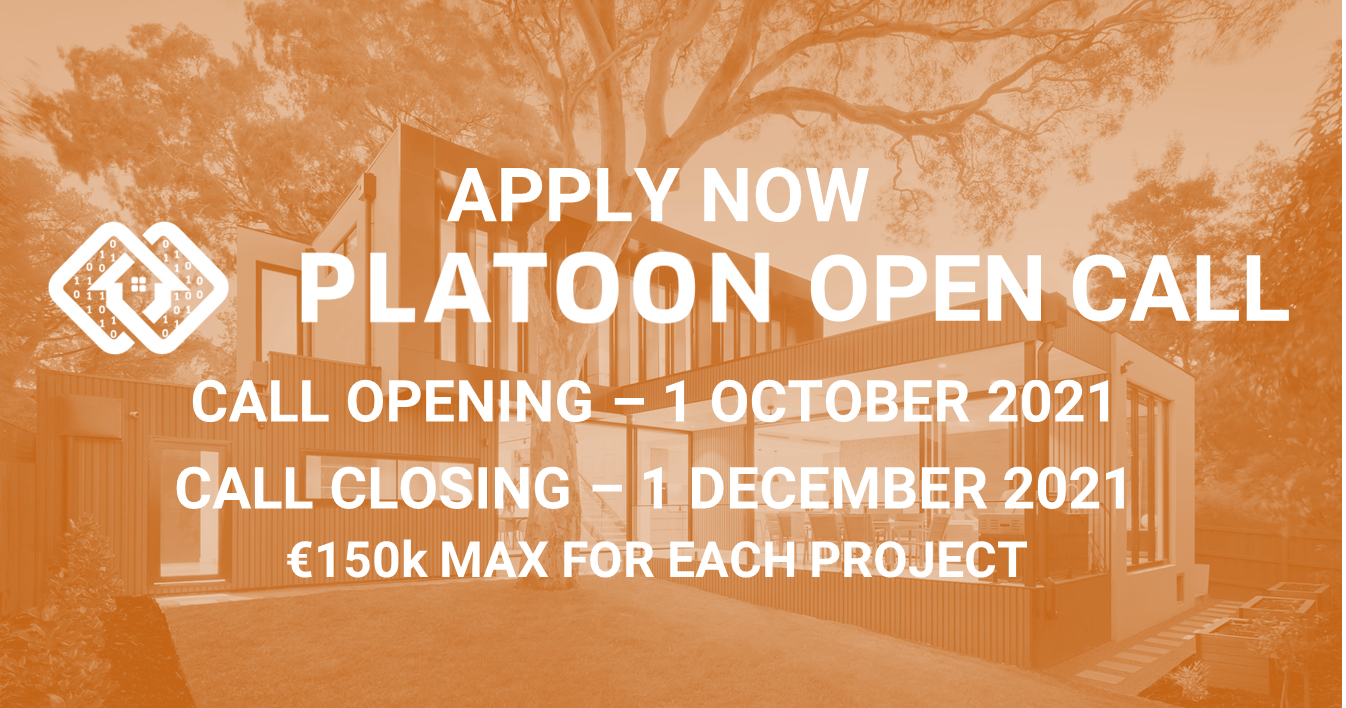 La seconda Open Call di PLATOON per progetti bottom-up viene lanciata oggi e invita tutte le PMI che lavorano con soluzioni tecnologiche utilizzabili per digitalizzare il settore energetico (livello di interoperabilità, governance dei dati e quadro di sicurezza, strumenti di analisi dei dati ecc.) a cogliere questa opportunità di finanziamento.
L'Open Call resterà aperta fino al 1 Dicembre 2021, alle 9:00 (CET, ora locale di Bruxelles).
I beneficiari dell'Open Call contribuiranno al successo degli obiettivi di PLATOON: aumento del consumo di energia rinnovabile, gestione delle risorse intelligenti, maggiore efficienza energetica e gestione ottimizzata degli asset energetici.
Attraverso il processo di candidatura i partecipanti possono proporre il proprio prodotto/servizio sulla base delle informazioni di progetto fornite nella Guida per i candidati con relazione agli obiettivi del progetto, all'architettura di riferimento, ai componenti già in fase di sviluppo e ai progetti pilota disponibili.
Le 7 PMI selezionate otterranno, ciascuna, un finanziamento massimo di €150,000 e accederanno per 9 mesi al Programma di Supporto con i tutori dei maggiori partners di PLATOON.
Per partecipare alla Open Call, i candidati devono avere esperienza in almeno una delle seguenti aree:
Data governance, security, privacy and sovereignty;
Digital Interoperability (APIs and Data models);
Applicazioni di Data Analytics nel campo energetico (come ad esempio: Ottimizzazione dell'uso energetico, Manutenzione Predittiva, Previsioni della richiesta, etc.);
Edge computing (SW/HW).
Le PMI degli stati membri della Unione Europea e le Nazioni associate al Programma H2020 possono presentare la domanda di partecipazione alla 2°Open Call prima del 1 Dicembre 2021, alle 9:00 (CET, ora locale di Bruxelles).