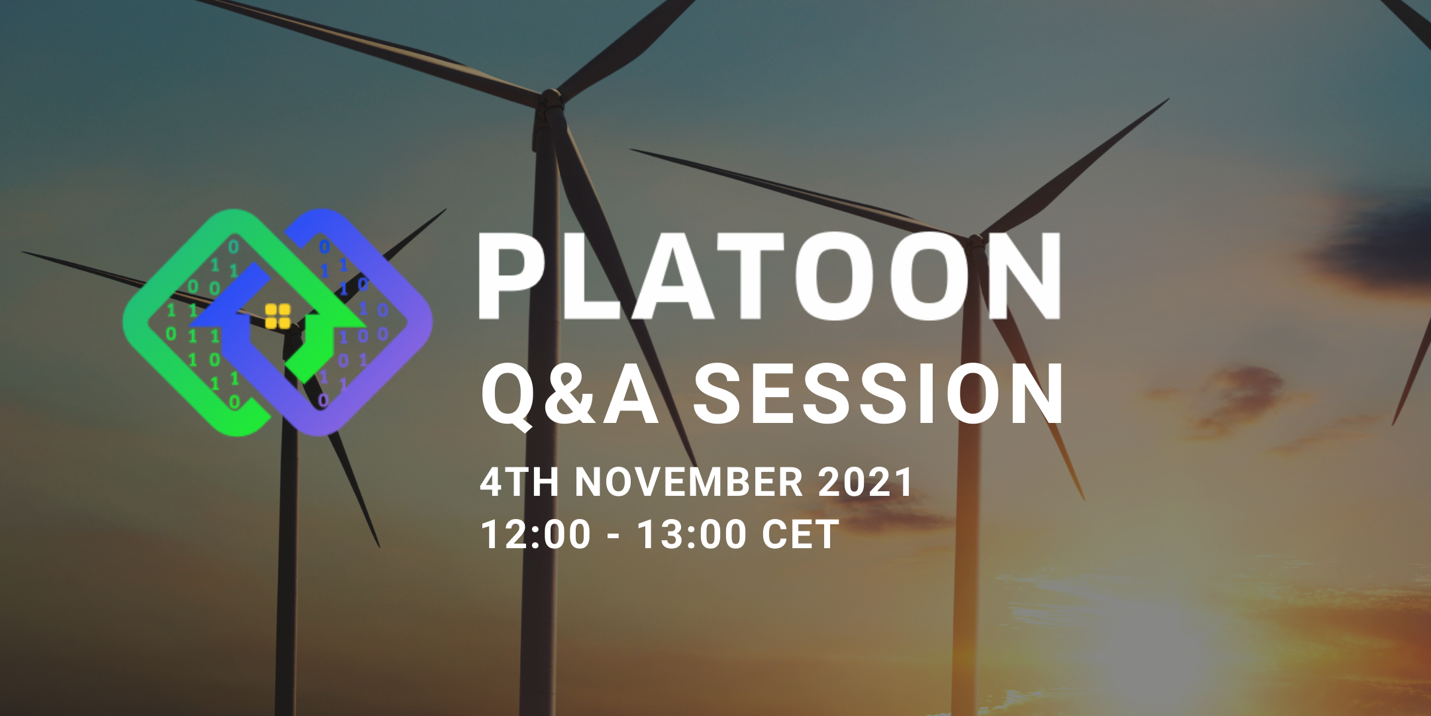 PLATOON's second Online Q&A Session will take place on Thursday, 4 November 2021, from 12 PM to 13 PM CET.
Attendees will hear about the 2nd Open Call and its 9-month Support Programme. Successful projects will receive up to 150.000€ funding as well as technical support during the Support Programme.
WHO ARE WE LOOKING FOR?
SMEs with experience in at least one of the below experimentation areas:
Digital Interoperability (APIs and Data models)
Data governance, security, privacy and sovereignty
Data Analytics applications in energy (such as Energy usage optimisation, Predictive maintenance, Demand forecast, etc.)
Edge computing (SW/HW)
Application to the 2nd Open Call can be submitted here, but it is recommended to first join the Q&A Session to learn how to succeed with your proposal!
ABOUT THE EVENT
When: Thursday, 4 November 2021, from 12 PM to 13 PM CET
Where: ZOOM platform at https://bit.ly/PLTNQATIB
A short registration will be required.
AGENDA
Welcome — Philippe Calvez, ENGIE (5 mins)
What is PLATOON? — Philippe Calvez, ENGIE (10 mins)
What is the Open Call targeting? — Erik Maqueda Moro, TECNALIA (10 mins)
How to apply for funding — Diana Järve, FUNDINGBOX (5 mins)
Q&A (30 mins)
ABOUT THE SPEAKERS
Dr. Philippe Calvez is head of the "Computer Science and Artificial Intelligence" department at ENGIE Lab CRIGEN. Philippe received his Ph.D. from the Faculty of Computer Science at the University of Paris Sorbonne, France. Philippe is working at Engie since 2009. Prior to joining ENGIE, Philippe worked for different international consulting companies. In Engie Lab CsAi, Philippe leads research activities related to Computer Science and Artificial Intelligence.
Erik Maqueda Moro, Data Analyst and Project Manager in the Digital Energy & Environment team in Tecnalia and Technical Coordinator of PLATOON H2020 project. MEng in Industrial Engineering by the E.T.S.I. Bilbao, MSc in Gas Turbines from Cranfield University and currently finishing a MSc in Data Science from Aston University. He has a proven track record in a wide variety of projects applying data analytics and AI into the energy sector (e.g. digital twins for wind turbines, ML models for energy efficiency, predictive maintenance, soft sensing in Oil & Gas, etc.). Also, he is currently working in different projects and initiatives around energy data spaces. Previously, he worked for 4 years in the department of predictive maintenance in Rolls-Royce. He also worked as a researcher for Lufthansa Technik in the development of a new methodology to estimate the effect of engine operating conditions on the maintenance cost.
Diana Järve has a MSc degree in Structural Engineering and Building Technology (Chalmers University of Technology), and a MSc in Civil and Building Engineering (Tallinn University of Technology). Her role at FundingBox is as Project Manager. Prior to FundingBox, Diana worked as a Project Manager in the Nordics managing ambitious & innovative flagship projects of the premier global developer and operator, URW. In total, Diana has 10+ years of professional experience in different industries (Infrastructure & Hydropower, Commercial Real Estate, and Business Services) and roles (Structural Engineer, Project Manager, Innovation Consultant).
Join the PLATOON Community to learn more about the project!