La prima Open Call PLATOON distribuirà 900.000 € tra 6 progetti bottom-up per lo sviluppo di building blocks core funzionali e/o tecnici e nuovi strumenti di analisi per i progetti pilota su larga scala di PLATOON.
6 PMI entreranno a far parte del Programma di supporto PLATOON beneficiando di servizi di mentoring tecnico.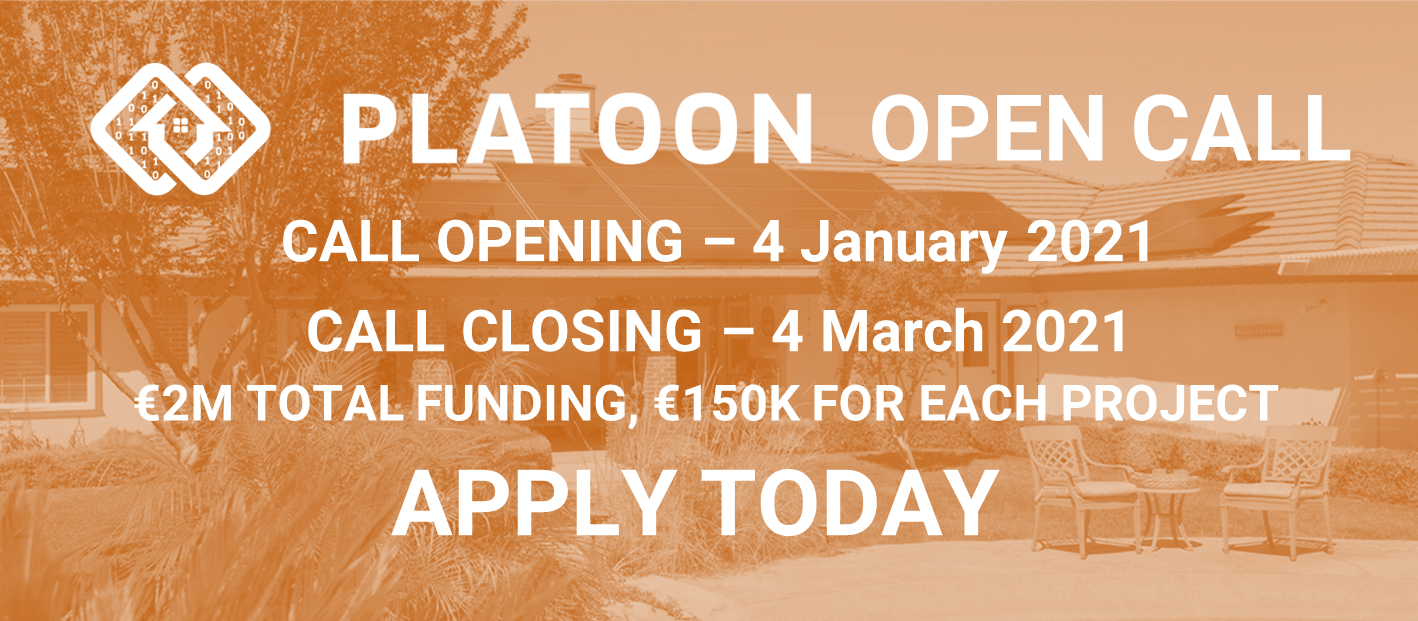 La prima Open Call di PLATOON per progetti bottom-up si è avviata oggi rivolgendosi a tutte le PMI che lavorano con una soluzione tecnologica che può essere utilizzata per digitalizzare il settore dell'energia (livello di interoperabilità, governance e sicurezza dei dati, strumenti di analisi dei dati, ecc.). L'Open Call rimarrà aperta fino al 4 marzo 2021, alle ore 17:00 (CET, ora di Bruxelles).
I beneficiari della Open Call contribuiranno al successo degli obiettivi di PLATOON: incremento del consumo di energie rinnovabili, gestione intelligente della rete, efficienza energetica e gestione ottimizzata degli asset energetici.
Attraverso il processo di candidatura, i candidati potranno proporre la propria sfida o scegliere una delle sfide "pronte all'uso" predefinite dal consorzio:
Connettori IDS open source su Edge;
Tool per la distribuzione automatica di applicazioni containerizzate in ambiente Cloud o on premise;
Secure Multi party computation;
Soluzione per la gestione dei dati e l'interoperabilità conforme a PLATOON;
Forecast per fotovoltaico PLATOON;
Tool per la scansione dei registri di manutenzione.
Le 6 PMI selezionate otterranno ciascuna un finanziamento equity-free per un massimo di €150,000 ed accederanno ad un Programma di supporto di 9 mesi con i tutors dei principali partner di PLATOON.
Per essere ammessi i candidati devono avere esperienza in almeno uno dei seguenti settori:
Digital Interoperability (APIs and Data models);
Data governance, security, privacy and sovereignty;
Applicazioni di Data Analytics nel settore dell'energia (come l'ottimizzazione del consumo di energia, la manutenzione predittiva, la previsione della domanda, ecc.);
Edge computing (S/H).
Le PMI degli Stati membri dell'UE e dei Paesi associati H2020 possono presentare la loro candidatura per la 1° Open Call prima del 4 marzo 2021 alle 17:00 CET (ora di Bruxelles).