PLATOON's first online Q&A session will take place on Monday 15 February 2021, from 14:00 to 15:00 CET.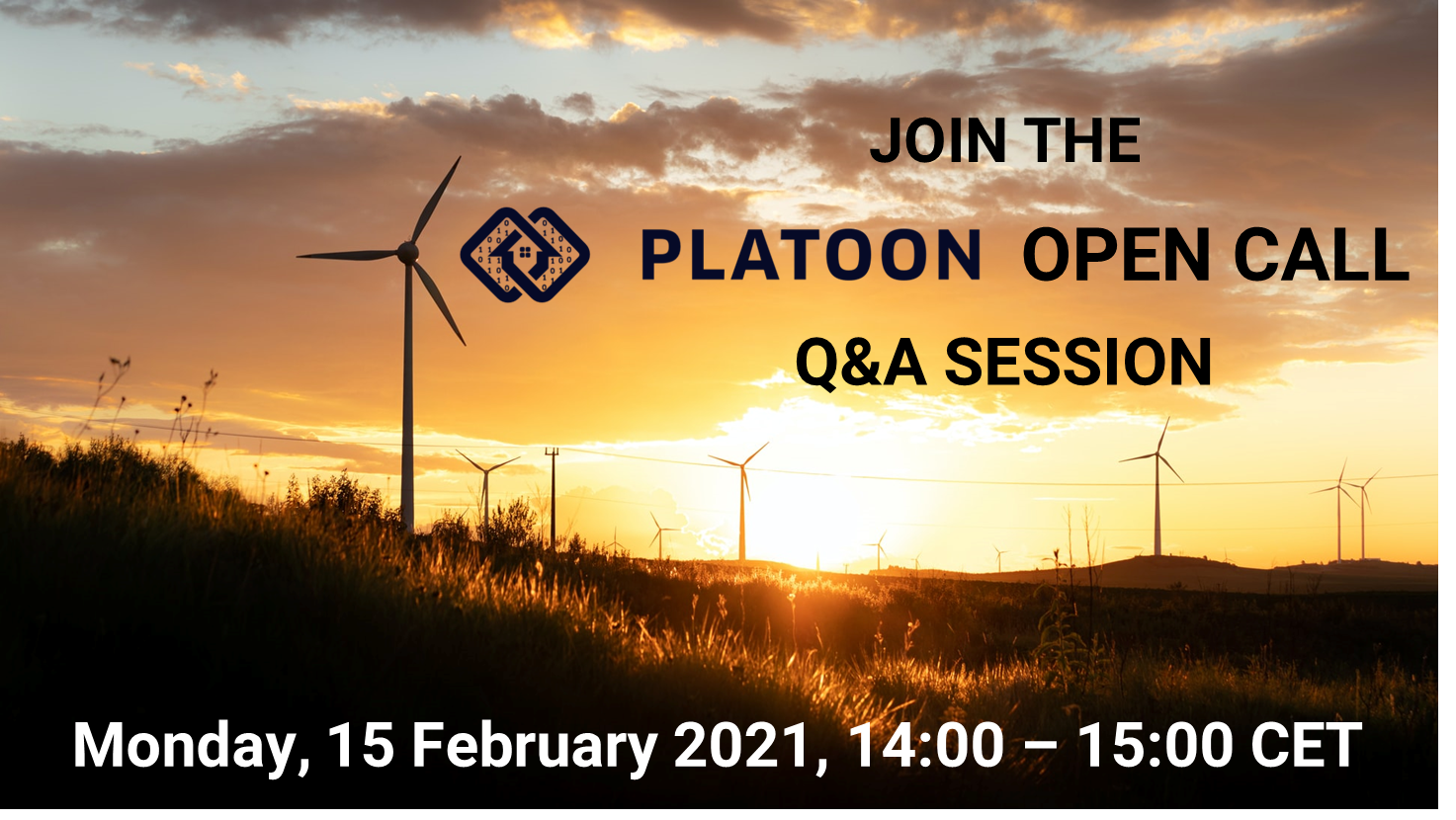 Attendees will hear about the 1st Open Call and its 9-month support programme. Successful projects will receive up to 150.000€ funding as well as business and technical support during the Support Programme.
Who are we looking for?
SMEs with experience in at least one of the experimentation areas, listed below:
Digital Interoperability (APIs and Data models)
Data governance, security, privacy and sovereignty
Data Analytics applications in energy (such as Energy usage optimisation, Predictive maintenance, Demand forecast, etc.)
Edge computing (SW/HW)
Applications for the Open Call can be submitted here, but first, please join this Live Session to learn how to succeed with your proposal!
About the Event
When: Monday 15 February 2021, from 2pm to 3 pm CET
Agenda
Welcome — Philippe Calvez, ENGIE (5 mins)
What is PLATOON? — Philippe Calvez, ENGIE (10 mins)
What is the Open Call targeting? — Erik Maqueda Moro, TECNALIA (10 mins)
How to apply for funding — Claire Tonna, FUNDINGBOX (5 mins)
Q&A (30 mins)
About the Speakers
Dr. Philippe Calvez is head of the "Computer Science and Artificial Intelligence" department at ENGIE Lab CRIGEN. Philippe received his Ph.D. from the Faculty of Computer Science at the University of Paris Sorbonne, France. Philippe is working at Engie since 2009. Prior to joining ENGIE, Philippe worked for different international consulting companies. In Engie Lab CsAi, Philippe leads research activities related to Computer Science and Artificial Intelligence.
Erik Maqueda Moro, BSc in Industrial Engineering by the E.T.S.I. Bilbao and a MSc in Gas Turbines from the University of Cranfield (United Kingdom) and currently studying a Master in Data Science from the University of Aston (United Kingdom). He is currently part of the Digital Energy team in the Energy and Environment Division of Tecnalia. Previously, he worked for 4 years in the department of predictive maintenance in Rolls-Royce (United Kingdom), which accumulates an experience of more than 25 years in that field.
Marie Claire Tonna has a M.Sc. in Science and Technology Policy and Management (University of Edinburgh) and B.A. (Hons) Anthropology. Her role at Funding Box is as Project Manager. Prior to Funding Box, Marie Claire worked as a Regional Business Manager in Singapore for a Silicon Valley tech startup called Workato. She was responsible for developing the go-to-market strategy for Australia and New Zealand.
Contact us
Join the PLATOON Community and ask your questions about the Open Call at the "Questions and Answers" space: Marie Claire Tonna and Marina Garcia Blanes‍ will answer them in real time!
For press purposes, please send an email to:
Alexandra Garatzogianni
Communication & Dissemination Lead
Alexandra.Garatzogianni[at]tib.eu
TIB – Leibniz Information Centre for Science & Technology
Michael Fribus
Communication & Dissemination Deputy
Michael.Fribus[at]tib.eu
TIB – Leibniz Information Centre for Science & Technology