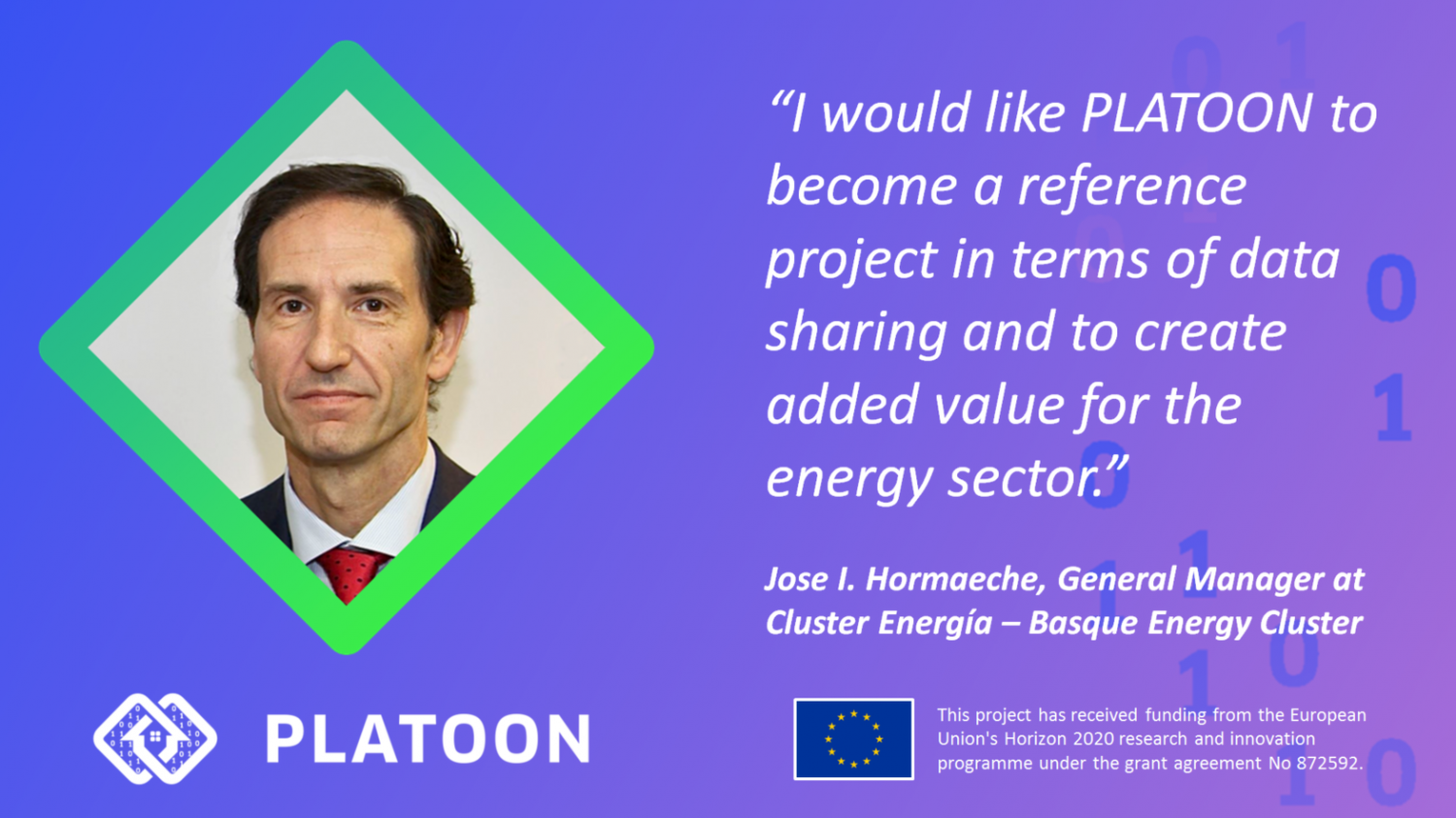 Jose I. Hormaeche is the General Manager of Cluster Energía – Basque Energy Cluster (Asociación Cluster de Energía , ACE) since March 2013. ACE is a non-profit private organization set up in 1996, with the mission of improving competitiveness of the Basque industrial fabric in the energy sector through collaboration in different fields: Technology, International promotion, Talent and Innovation. ACE includes more than 150 member companies in the energy supply chain: energy operators, component and equipment manufacturers, service companies, research entities and public administration.
Jose, what is your organisation's role in PLATOON?
The main role of Cluster de Energia del País Vasco – Basque Energy Cluster (CEPV) in PLATOON is to contribute to the definition and implementation of the Communication and Dissemination strategy. Specifically, CEPV will lead the "Industrial dissemination" task, focused on addressing the industry segments that may be potential users and/or customers of the project results.
How does PLATOON relate with you and your team's background and interests?
In the past 2 years, CEPV has been very active in the area of data collection and the solution of analytics issues for energy related applications. Originally at regional level, we have been exploring the challenges and benefits of the digitalisation of energy systems, working together with companies all along the energy value chain: smart grids, wind farms, and solar facilities, among others.
At European level, I was hired by DG REGIO (EC) in 2018 as an expert to undertake the coordination and management of the "Sensing & Remote Monitoring in Marine Renewable Energy facilities" (S&RM in MRE) pilot action, that was proposed by the Marine Renewable Energy (MRE) partnership (leading regions were the Basque Country and Scotland), one of the S3P Platforms in Energy launched by DG REGIO.
How will PLATOON digitalise and contribute to the development of the energy sector (e.g. with big data, edge computing and AI) in your opinion?
In our opinion as a cluster organization, the results of PLATOON will be key to facilitate data access and use in the energy sector. The architecture to be defined, the analytical tools to be developed and the data governance standards to be implemented should allow companies at different segments of the energy value chain to share data and cooperate with each other in order to obtain real value out of the data collected from the energy assets.
Which stakeholder groups can benefit from PLATOON?
The different deliverables and results of PLATOON should allow data sharing and usage among data owners (asset owners, renewable energy developers, OEMs) and data users (components manufacturers, service providers, ICT developers, academia, among others), thus creating benefits for companies in all segments of the energy value chain.
To be more precise, I believe there are 2 segments of companies that can obtain greater benefits from PLATOON results:
Component manufacturers: thanks to the platforms and tools to be developed these companies will have access to data provided by Data owners (that presently they cannot collect nor monitor), allowing them to analyse those data in order to improve their designs and extend the products lifecycle.
ICT developers: these companies (most of them start-ups and SMEs) will be able to develop applications and solutions (Big Data, Data Analytics, etc.) that comply with the standard architectures developed by PLATOON, and to implement the modules, toolboxes and connectors delivered in the project, thus facilitating the analysis of data from different sources and owners.
How do you expect that the energy sector will be in the future?
The energy sector is going to be key in the energy transition that Europe will lead in the next decades. In order to take advantage of the relevant market opportunities that the energy transition will offer at the global level, companies in this sector should proactively embrace the implementation of new technologies and digitalization in their products and business models.
Which are the most significant challenges and opportunities related to the digitalisation of the energy sector in your opinion?
Some companies in the energy sector (mostly big corporations such as utilities and OEMs) have already started to implement sensors and data collection systems in the energy assets for generation, transmission and consumption. However, efficient proven concepts are still not available due to 2 main challenges to be overcome:
The technological challenge: significant technology development, demonstration and validation is still needed to achieve products and services ready for commercialization. Sensors and remote monitoring systems are yet to be extensively implemented in energy generation and transmission facilities. Specifically Big Data and Data Analytics applications have to be developed, as currently little information is being processed for predictive maintenance purposes.
The data sovereignty challenge: A key core need to make data sharing possible is to guarantee data privacy and security to all stakeholders, and especially to those who will be data providers. Energy data platforms and markets shall be built on design principles that go beyond our traditional understanding of cybersecurity and privacy. The IDS Reference Architecture Model, that will be endorsed and implemented in PLATOON, ensures trustworthiness in ecosystems and sovereignty over data as its key value proposition.
What are your expectations of the PLATOON project?
I would like PLATOON to become a reference project in terms of data sharing and to create added value for the energy sector. With that vision in mind, PLATOON should be the place to generate knowledge, developments and pilot demonstrators in order to facilitate, encourage and enhance data sharing produced within the energy assets under real operating conditions, in order to generate added value for companies at all levels of the energy value chain.
Thank you, Jose, for this interesting interview!