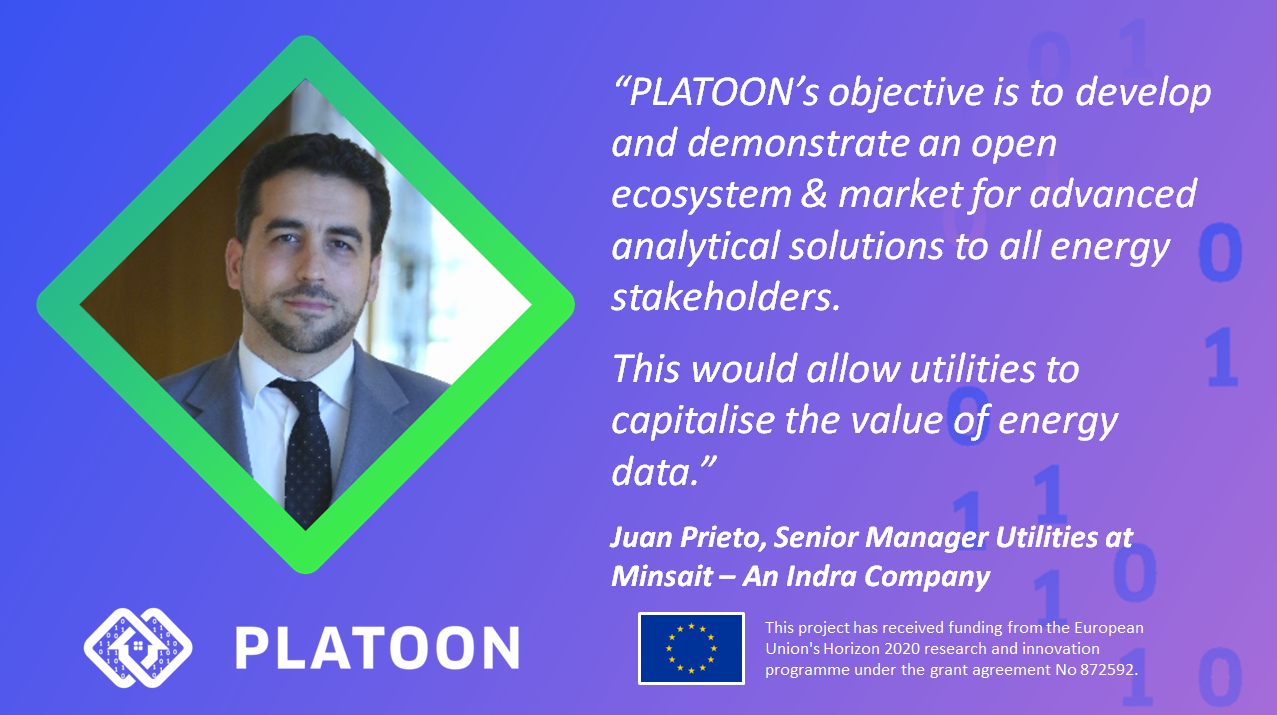 Juan Vivanco Prieto, with 23 years of experience in the energy sector, is currently Head of the active grid practice at Indra Minsait. He is in charge of the definition, development and implementation of new technologies and architectures that are already enabling the transformation of the energy sector, opening new ways for active coordination and management of energy ecosystems, leading differing international projects in this domain.
Juan, what is your organisation's role in PLATOON?
Minsait is a major technological player in Europe supporting energy transformation, transport, communications and the public sector. Specifically in the energy sector, Minsait has been adapting IoT, edge computing and deep learning technologies to support the transformation of the energy sector, enabling higher penetration of renewable energy sources, and a more flexible and efficient operation of the energy sector.
In PLATOON project, Minsait plays three basic roles:
Technology provider. Defining and providing open and interoperable IoT and Edge technologies to develop and validate advanced asset management, Microgrid and energy efficiency analytic services.
Lead to business case development and impact measurement. As a leading provider of systems and technologies for the energy sector, Minsait is interested in verifying and demonstrating the business impact of a new generation of energy systems and platforms.
Provider of analytical services and tools for the energy sector. With a specialized set of analytical tools for assets management, and energy system management Minsait will be actively participating with software tools in the different project demonstrators.
How does PLATOON relate with you and your team's background and interests?
Minsait's participation in the PLATOON project is led by the energy team that is in charge of developing a new generation of digital solutions and products for the transition of the energy system. This team composed of energy, technology and data modeling specialists has been involved in the last 10 years in the selection, adaptation and business evaluation of products and solutions to support the deep changes the energy sector is going through globally.
The team has identified three key technologies to enable this transformation:
IoT data centric technologies.
Edge data processing, control and intelligence.
Adaptive and distributive intelligence permeating the whole energy systems.
Both technological and business orientation of Minsait Energy team, are 100% aligned with the objectives of the PLATOON project. PLATOON's objective is to develop and demonstrate an open ecosystem & market for advanced analytical solutions to all energy stakeholders. This would allow utilities to capitalize the value of energy data.
How will PLATOON digitalise and contribute to the development of the energy sector (e.g. with big data, edge computing and AI) in your opinion?
The transformation of the power sector, driven by renewable generation and the distribution of energy resources down to the customer level, requires a complete new set of tools to ensure the reliable and efficient coordination of major generation, grid operators, representation agents, and millions of prosumers and distributed energy resources.
PLATOON brings together all relevant areas of expertise in the market to build and demonstrate in real environments the business impact of an open ecosystem of digital tools based on novel IoT, Real Time Data Integration technologies, Edge data processing and hybrid central and distributed data analytics.
Which stakeholder groups can benefit from PLATOON?
Owners of renewable generation will be able to better forecast and maximize the value and availability of their generation in the energy system.
Grid operators will increase grid reliability and efficiency through dynamic coordination of all available energy flexibility in connected energy resources.
New Aggregation agents will have advanced tools to aggregate, manage and maximize the efficiency and value of customers energy resources.
Customers/prosumers will be enabled to participate in the provision of flexibility services, reducing the cost of their energy bills at the same time that they make the whole energy system more efficient and reliable.
How do you expect the energy sector to be like in the future?
A distributed system where all the different stakeholders, operators, generation, markets and customers, will be exchanging energy and energy services in almost real time across the power system sharing value in a transparent manner. This distributed coordination will enable a completely renewable energy system, that is also adaptive, reliable, and economically optimal.
Which are the most significant challenges and opportunities related to the digitalisation of the energy sector in your opinion?
The energy sector faces three basic challenges that are related to each other:
Maintenance of the energy system reliability and quality at regional, national and continental level as penetration of renewable generation dependent on weather conditions continues to increase.
Increase production efficiency and reliability of renewable resources. Critical as renewable generation will be the main source of Europe's energy supply.
Enabling new sources of flexibility throughout the grid to dynamically compensate natural renewable generation volatility.
The deployment of novel digital technologies for adaptive, flexible and intelligent coordination of energy resources across the energy value chain will be key to meet previous challenges at the same time that we reduce the final cost of energy supply to the society.
What are your expectations of the PLATOON project?
For Minsait participating in PLATOON project is a key opportunity to:
Verify the actual business impact of proposed key digital technologies: IoT, Edge, distributed intelligence and massive energy data analytics.
Demonstrate the maturity and impact of these novel technologies to energy agents.
Foster the creation of an open ecosystem/market in Europe for advanced analytical solutions that would allow utilities to capitalize the value of energy data.
Thank you, Juan, for this interesting interview!