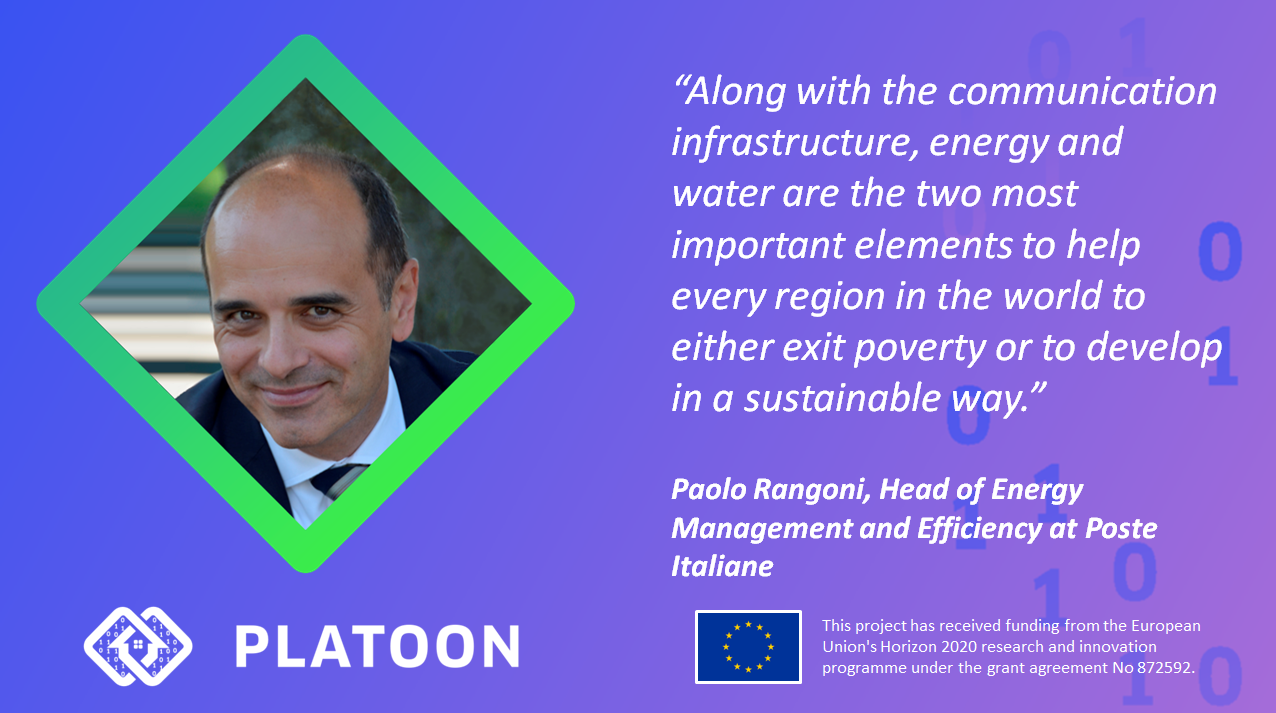 Paolo Rangoni, received his Degree in Business Economy, and is now Head for Energy Management and Efficiency at Poste Italiane since November 2018. He has a passion for sustainability applied to business management. Previously, he gained his experiences for 25 years focused on Supply Chain Management and optimisation in GDO, FCPG and Logistics. Senior Executive in Accenture and later as Supply Chain Director in Carrefour Italy and CEO in SDA Express Courier, the courier of Poste Italiane. Main geographic experiences in Italy, Europe and Turkey. He leads projects and managed reporting design, functional requirements and KPI structure definition with specific link to business goals and value added analysis.
Paolo, what is your organisation's role in PLATOON?
Poste Italiane has got buildings for around 5,0 million m² (owned or rented) distributed with three main destinations: Postal Offices open to public (retail business), logistics distribution and cross docking (mail & parcels) and directional offices covering all municipalities in Italy.
In PLATOON, we have 2 roles:
To provide input for heterogeneous type of buildings in terms of energy data and functional requirements for data analysis to provide value added from information collected;
To provide the case study pilot in Rome.
How does PLATOON relate with you and your team's background and interests?
The wide-spread presence of Poste Italiane in the national territory determine an integrated, multichannel distribution and communication network, which serves the country's entire population via a physical network of post offices and through a wide range of buildings, with heterogeneity of technologies and plants for every energy factors.
We have a deep interest in understanding the data automation we can achieve to manage huge amount of data for a high number of buildings (around 13.500). Our mixed background (economists, architects, engineers) allow us to provide feedback for all the different project phases; our curiosity give us the energy to interact with a multidisciplinary team like PLATOON.
How will PLATOON digitalise and contribute to the development of the energy sector (e.g. with big data, edge computing and AI) in your opinion?
Data from energy sectors are growing at a pace we cannot manage using traditional tool and we cannot increase the size of the team to treat more data. The sources are internal (EMS/BMS systems, IOT, sensors, employees and clients movements) but also external (energy market, benchmarks, temperatures,..) the combination of both type of data require not only the capacity to manage huge amount of data but more than that the capacity to extract value from them.
The global goals in terms of carbon neutrality of business are adding additional importance to our work to contribute with buildings decarbonisation.
Which stakeholder groups can benefit from PLATOON?
As we expect to improve our capacity to move faster towards carbon neutrality and this is one of the six pillars of our company strategy and it is aligned with ESG from United Nations I could say many stakeholders are impacted. The most relevant, in my opinion, are:
Energy managers;
CFO;
Building managers;
Communication and marketing managers;
Energy suppliers;
Building agencies.
How do you expect the energy sector to be like in the future?
Energy and water are the two most important elements together with communication infrastructure to help every region in the world to exit from poverty or to develop in a sustainable way. Prosumer in the energy field are already a reality, energy consumption will be more rationale and production more fragmented, also energy will be produced near the usage when affordable reducing the needs for distribution network but increasing the need for balancing energy supply and demand. Forecasting capabilities will increase their importance.
Which are the most significant challenges and opportunities related to the digitalisation of the energy sector in your opinion?
I see the following challenges:
Manage huge amount of data in constant change;
Defining standards (communication, measure, interoperability);
Fast technology change, which is the best timing to adopt a technology due to the cost depreciation? Coexistence of different technology / vendor in the same company;
The smaller the place, the lower the energy needs, the smaller the interest to find solutions to improve the energy quality of small, old buildings (the situation of the bigger part of existing building stock in Europe).
And the following opportunities:
Still huge opportunities exist to optimize energy usage in buildings;
Digitalisation reduce costs and improve ROI on investments in energy efficiency;
Non only energy cost reduction but also maintenance cost reduction.
Which are your expectations from the PLATOON project?
Helping defining algorithms and rules of analysis to solve the puzzle determined by big data, lack of standard technology, fast change and needs for value from information required in this fields. Piloting solution to be deployed in an extended network with centralised and local application with low amount of investments.
Thank you, Paolo, for this interesting interview!