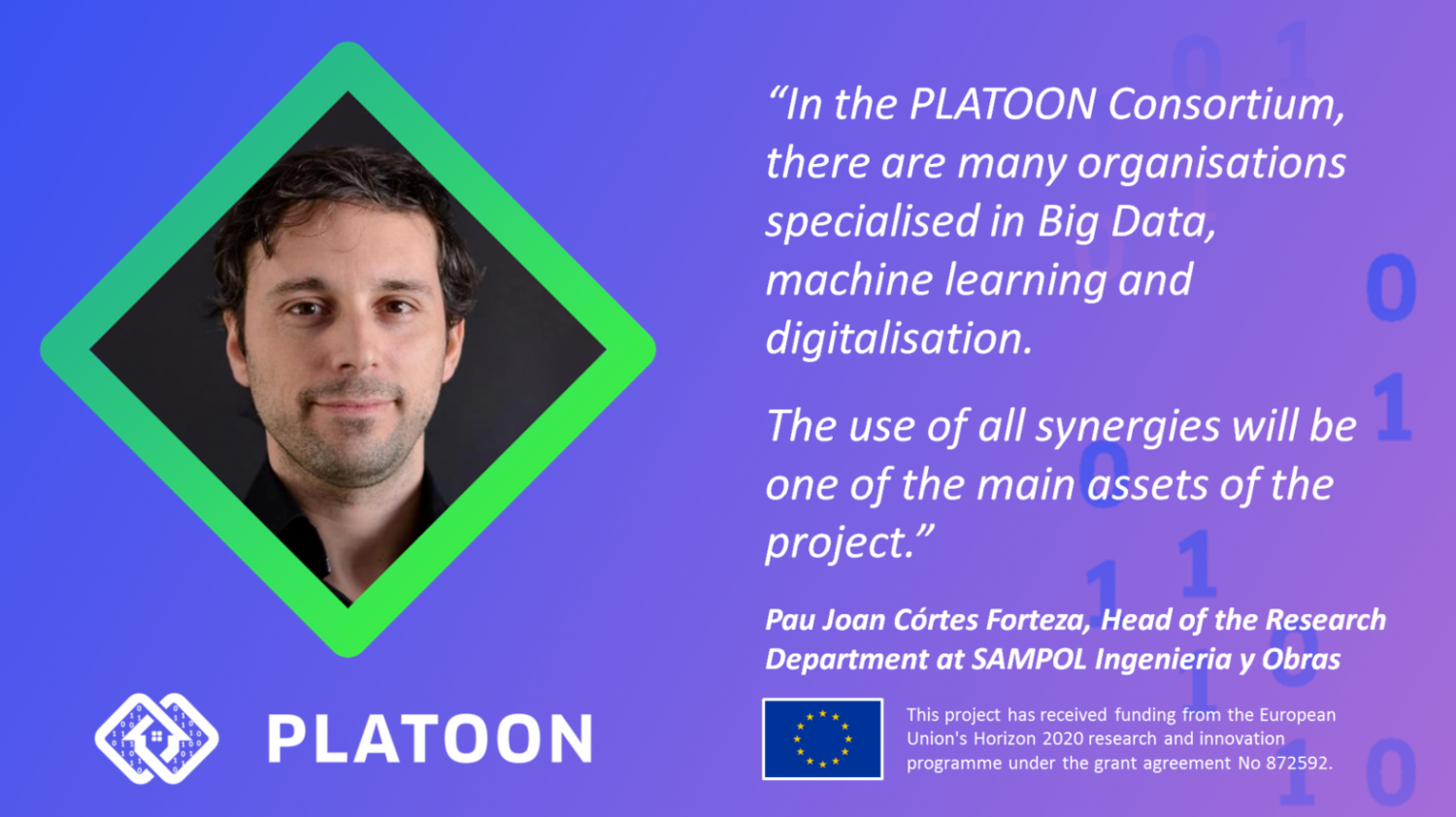 Pau Cortés, born in 1980, works now as an Industrial Engineer at Zaragoza University after a few years of working in a technological centre, ITA (Instituto Tecnológico de Aragón), and in structural calculus in the automotive sector. First, he received his Master's degree in Innovation Management by the Universidad de Zaragoza, and then he received the Executive Master degree in Innovation by the EOI and started as a research manager in 2011. He has experience in international and industrial R&D project management and strategy, participating at different levels in Interreg programmes, H2020 projects, Marie Curie actions, FP6 projects, FP7 projects and national R+D projects (CDTI).
Currently, he is Head of the R&D department in SAMPOL where he develops new solutions for energy management, collaborating in FP7 and H2020 projects.
Pau, what is your organisation's role in PLATOON?
SAMPOL is responsible for one of the seven pilots of the project that is located in Mallorca in Spain. We will collaborate as a DSO and we are focused on the development of the platform and a tool for predictive maintenance in transformers.
How does PLATOON relate with you and your team's background and interests?
SAMPOL is an engineering company focused on the energy sector. Designing, operating and maintaining energy systems is our worker's main know-how. In the PLATOON Consortium, there are many organisations specialized in Big Data, machine learning and digitalisation. The use of all synergies will be one of the main assets of the project.
How will PLATOON digitalise and contribute to the development of the energy sector (e.g. with big data, edge computing and AI) in your opinion?
Nowadays, in the energy sector, there is so much sensor feeding data to our databases. Most of these data is not processed which is why so much information about our energy systems is still missing. In my opinion, it is difficult to foresee the findings of the digitalization of the electricity sector precisely. However, I am convinced that it can be a breakthrough in energy management and that it can improve engineering design as well as electricity net components maintenance.
Which stakeholder groups can benefit from PLATOON?
Of course, PLATOON solutions can benefit us all, since electricity is used by everyone in our society, but this view is quite ambitious. PLATOON solutions might be useful for electricity companies such as DSOs and energy producers, but the solutions will be applied primarily by IT companies and engineering firms Hence, they will be the main stakeholders.
How do you expect the energy sector to be like in the future?
Electricity demand is increasing day by day: in our homes each device and gadget needs power, nowadays even heating systems and cars. On the other side, since renewable energy has a wider presence in electricity generation, the weather conditions play an important role in the modern-day electricity supply. Because of this, the weather forecast and energy demand prognosis are gaining increasing importance within the sector.
High demand combined with volatile, energy generation is an issue for energy companies. This issue can be resolved in three different ways: energy storage devices, energy accumulation and acting on-demand. The first one is expensive and very ineffective. The third solution, acting on-demand (demand response), is also ineffective nowadays since the electricity price variation is not significant enough to make users change their behaviour.
In my opinion, energy accumulation (both thermal and electrical) will play an important role in the future of the energy sector. Furthermore, as commented before, any technology that helps in the weather and demand forecasting will be crucial for energy businesses.
Which are the most significant challenges and opportunities related to the digitalisation of the energy sector in your opinion?
The electricity grid paradigm is rapidly changing. The integration of renewable energies, distributed power generation and electrical vehicles is creating new requirements to electricity grids which are expensive to modify. Nowadays, digitalisation is bringing effective solutions for these newly emerged problems. However, most electricity grids are outdated nowadays, which is why old equipment does coexist with new smart equipment. Finding solutions to these new problems which can integrate both old and new equipment is the main challenge of the digitalisation process in the electricity sector.
What are your expectations of the PLATOON project?
In our case, we have many expectations of the project: synergies might trigger the development of energy solutions that could be interesting for our own company and our society in general. But to be more specific, we will work on the transformer maintenance, particularly in small transformers which conservation actions are usually done whenever the main grid fails. We expect to offer solutions to the electricity grid maintainers to improve their know-how in forecasting transformer life cycles in real applications and avoid power cuts or bad quality service.
Thank you, Pau, for this interesting interview!