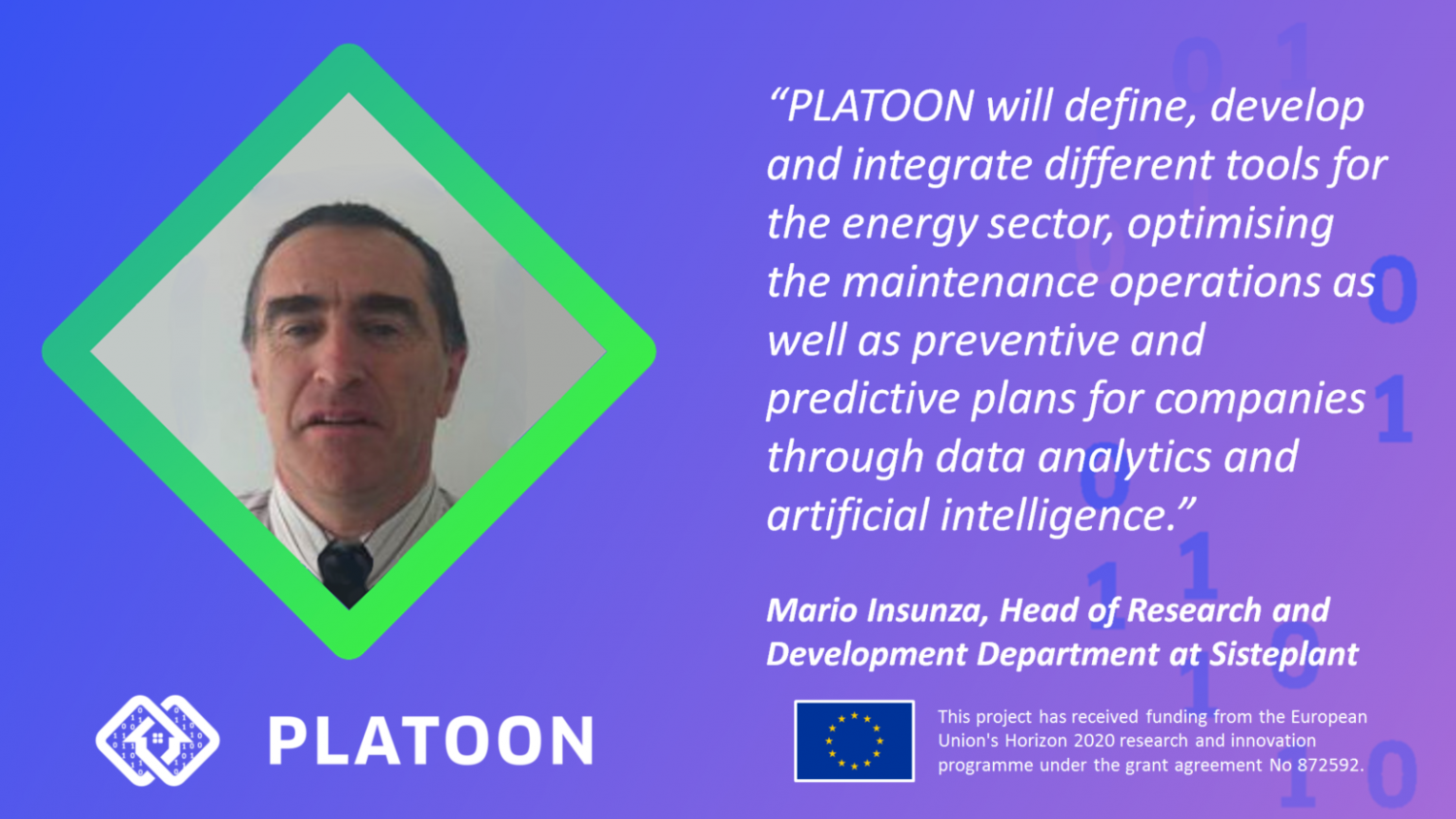 Mario Insunza, graduated in Mathematical Science in the Universidad Complutense in Madrid. Since 1985 he has been working at Sisteplant. He has specialised in the fields of Production, Maintenance Management and Computer Aided Simulation. Currently, he is Head of the Research and Development Department as well as responsible for some software products like PRISMA and CAPTOR as well as different projects related to these environments.
Mario, what is your organisation's role in PLATOON?
The area of responsibility of Sisteplant includes analytic tools for final use of energy (WP4) and Large Scale Pilot case (LSP) of GIROA dealing with energy efficiency and predictive maintenance in the smart tertiary building hubgrade.
How does PLATOON relate with you and your team's background and interests?
Sisteplant will participate in the project through people that are experts in using the PRISMA and PROMIND softwares. PRISMA is a software product that we can define as 'Enterprise Assets Knowledge Management' or 'Maintenance Management', and PROMIND is another similar product that uses mathematical models related to processes and assets. These two software packages will contribute to the development of new software modules supporting other features of the energy sector assets. In reference to the teams involved in the project, there are people in charge of the software development of PRISMA and PROMIND and others in charge of the validation and implementation tasks. The experience of people who have specialised in software implementation for many different types of users and customer groups is vital in the definition of requirements, different solutions and user cases.
How will PLATOON digitalise and contribute to the development of the energy sector (e.g. with big data, edge computing and AI) in your opinion?
PLATOON will define, develop and integrate different tools for the energy sector, optimising the maintenance operations as well as preventive and predictive plans for companies through data analytics and artificial intelligence. The validation of all optimisation aspects through use cases will allow companies, as energy end users, to better manage the exploitation and new services related to the energy sector.
Which stakeholder groups can benefit from PLATOON?
At first glance, the results of the PLATOON project can be used by any company that needs to optimise its energy and maintenance costs. Taking this idea into account, all industries (not only the energy sector itself) can benefit from the use of different results of PLATOON project. In addition, the PLATOON Data Analytics Toolbox will be a great tool that could be used in multiple software products which in turn improve the different applications related to the optimisation of operation and maintenance.
How do you expect the energy sector to be like in the future?
In my opinion there will be two very important concepts: mobility and digitalisation. Therefore, it will increasingly be necessary to control and improve energy consumption and in order to do so, the implementation of a digital system maintained by people located far from the energy generating facilities has to be realised (which is why there is a need for mobile software systems).
Which are the most significant challenges and opportunities related to the digitalisation of the energy sector in your opinion?
In my opinion, the most significant challenges and opportunities are centred around the creation of new mathematical models that should enable data sharing between different companies obtaining the root causes of the failures. If companies in the energy sector (in general, SMEs) could know the root causes of these component failures, they would improve both their energy component design and development. The final result would be an improvement of the extended value chain.
What are your expectations of the PLATOON project?
Sisteplant expects to exploit a new PRISMA software module specialized in energy optimization (based on the validation of the GIROA use case). The main users of this new module will be industrial manufacturers and other services as e.g. building maintainers.
The main benefits for users will be an improvement of their decision-making in maintenance policies as well as an optimization of maintenance costs and energy consumption (this includes not only in buildings or companies related to the energy sector, but all stakeholders in general).
Thank you, Mario, for this interesting interview!