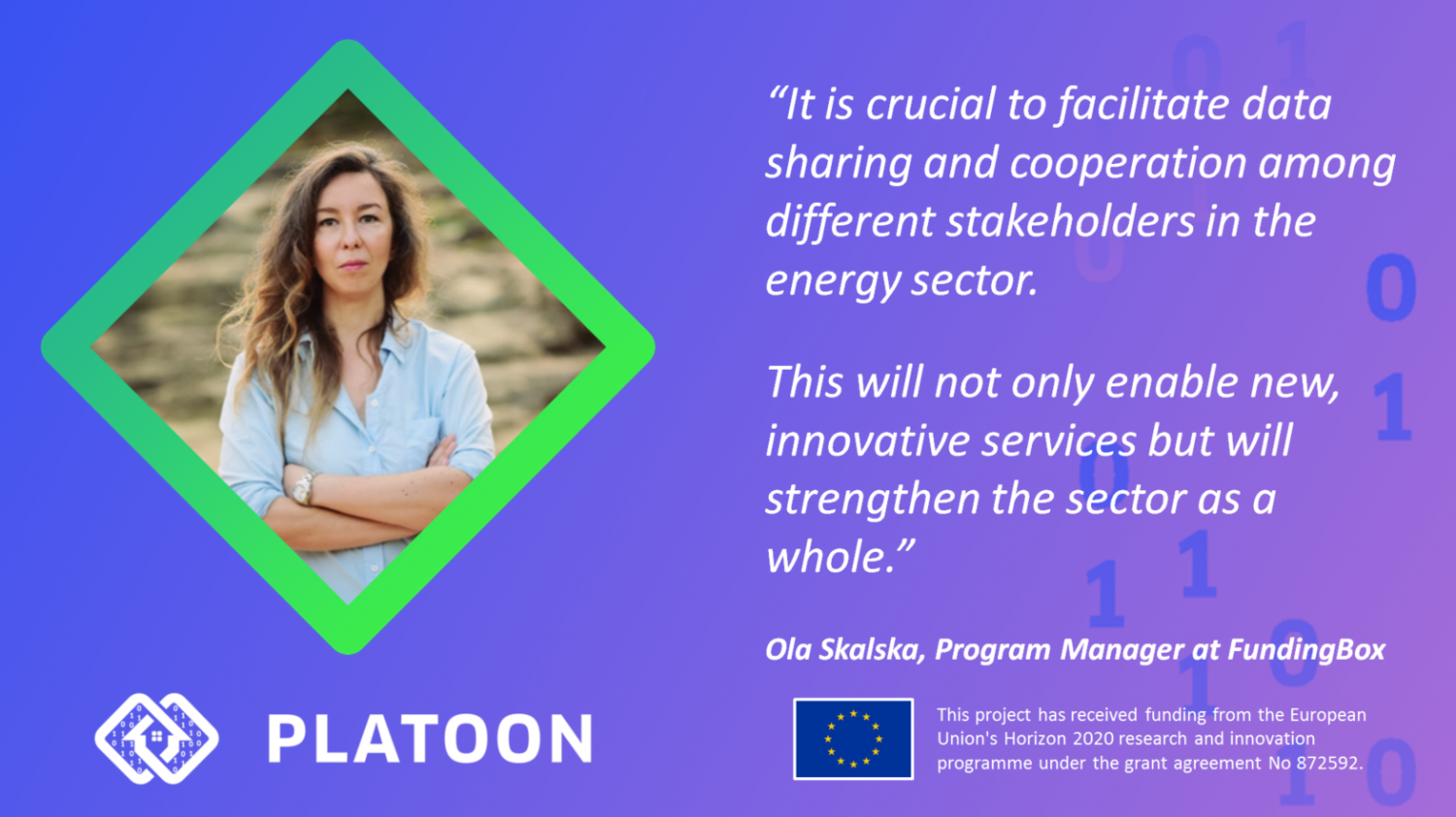 Ola Skalska, Program Manager supervising disruptive projects at FundingBox, including PLATOON. Ola has been writing, executing and monitoring H2020 projects since 2014.
Ola, what is your organisation's role in PLATOON?
FundingBox is an expert in supporting small and medium-sized enterprises on their path for growth through acceleration programs funded by the European Commission. In PLATOON we will be selecting startups and scale-ups to join the PLATOON Acceleration Programme.
How does PLATOON relate with you and your team's background and interests?
PLATOON is an extremely important project for the European energy sector. Fundingbox aims to contribute with the knowledge and know-how through our pool of experts in project management, advanced technologies (IoT, Robotics, Connected Devices, ICT and Logistics) and financial support management through open calls. Fundingbox has access to the knowledge accumulated from more than 3.000 projects executed since 1991. We have also managed over 20 International Open Calls since 2014, with more than 11,000 applications evaluated and 200 Agreements with Third Parties receiving Financial Support, signed. We hope to find the best innovators that will contribute to PLATOON and help the project be truly sustainable.
How will PLATOON digitalise and contribute to the development of the energy sector (e.g. with big data, edge computing and AI) in your opinion?
It is crucial to facilitate data sharing and cooperation among different stakeholders in the energy sector. This will not only enable new, innovative services but will strengthen the sector as a whole. We believe that PLATOON has enough expertise (among consortium members), potential (due to the SMEs and scaleup testing the platform later on the project) and strategic vision to impact the energy sector.
Which stakeholder groups can benefit from PLATOON?
We are especially interested in working with SMEs, startups and scale-ups. We will be selecting them through open calls to join the PLATOON acceleration program.
What are your expectations from the PLATOON project?
We would like to:
Contribute to building an efficient energy sector by selecting innovative scale-ups to develop new products and services
Build a dynamic community around the energy sector with the most renown stakeholders.
Create a methodology for accelerating companies in the energy sector.
Thank you, Ola, for this interesting interview!