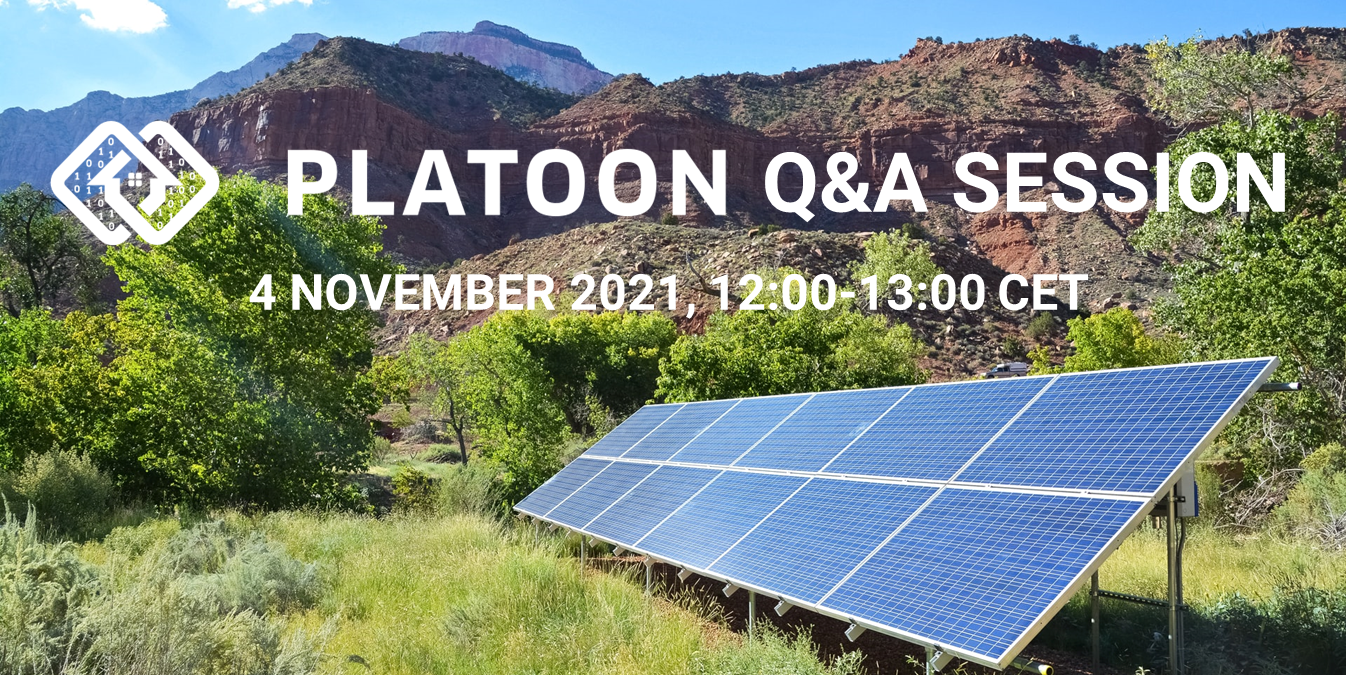 Die Online-Fragestunde zum zweiten PLATOON Open Call findet am Donnerstag, 4. November 2021, von 12 bis 13 Uhr MEZ statt.
Die Teilnehmer werden über den zweiten Open Call und das 9-monatige Förderprogramm informiert. Erfolgreiche Projekte werden mit bis zu 150.000 € gefördert und erhalten während des Förderprogramms technische Unterstützung.
WEN SUCHEN WIR?
KMU mit Erfahrung in mindestens einem der nachstehend genannten Versuchsbereiche:
Digitale Interoperabilität (APIs und Datenmodelle);
Datenverwaltung, -sicherheit, -datenschutz und –souveränität;
Datenanalyseanwendungen im Energiebereich (z. B. Optimierung des Energieverbrauchs, vorausschauende Wartung, Bedarfsprognose usw.);
Edge Computing (SW/HW).
Bewerbungen für den zweiten PLATOON Open Call können hier eingereicht werden, aber es wird empfohlen, zuerst an der Fragerunde teilzunehmen, um zu erfahren, wie Sie mit Ihrem Vorschlag erfolgreich sein können!
ÜBER DIE VERANSTALTUNG
Wann: Donnerstag, 4. November 2021, von 12 Uhr bis 13 Uhr MEZ
Wo: ZOOM-Plattform unter https://bit.ly/PLTNQATIB
Es wird eine kurze Registrierung benötigt um an der Fragerunde erfolgreich teilnehmen zu können.
AGENDA
Eröffnung der Veranstaltung — Philippe Calvez, ENGIE (5 Minuten)
Was ist PLATOON? — Philippe Calvez, ENGIE (10 Minuten)
Worauf zielt die offene Ausschreibung ab? — Erik Maqueda Moro, TECNALIA (10 Minuten)
Wie man sich für eine Finanzierung bewirbt — Diana Järve, FUNDINGBOX (5 Minuten)
Frage- und Antwortrunde (30 Minuten)
ÜBER DIE SPRECHER
Dr. Philippe Calvez ist Leiter der Abteilung "Informatik und künstliche Intelligenz" im ENGIE Lab CRIGEN. Philippe Calvez promovierte an der Fakultät für Informatik der Universität Paris Sorbonne, Frankreich. Seit 2009 arbeitet er bei ENGIE. Bevor er zu ENGIE kam, arbeitete Philippe für verschiedene internationale Beratungsunternehmen. Im Engie Lab CsAi leitet Philippe Forschungsaktivitäten in den Bereichen Informatik und Künstliche Intelligenz.
Erik Maqueda Moro, Datenanalytiker und Projektmanager im Team Digitale Energie und Umwelt bei Tecnalia und technischer Koordinator des PLATOON H2020-Projekts. Er hat einen MEng in Wirtschaftsingenieurwesen von der E.T.S.I. Bilbao, einen MSc in Gasturbinen von der Cranfield University und schließt derzeit einen MSc in Datenwissenschaft an der Aston University ab. Er kann auf eine Vielzahl von Projekten zur Anwendung von Datenanalyse und KI im Energiesektor zurückblicken (z. B. Digital Twins für Windturbinen, ML-Modelle für Energieeffizienz, vorausschauende Wartung, Soft Sensing in der Öl- und Gasindustrie usw.). Außerdem arbeitet er derzeit an verschiedenen Projekten und Initiativen rund um Energiedatenräume. Zuvor arbeitete er 4 Jahre lang in der Abteilung für vorausschauende Wartung bei Rolls-Royce. Ferner arbeitete er als Forscher für Lufthansa Technik an der Entwicklung einer neuen Methodik zur Abschätzung der Auswirkungen von Triebwerksbetriebsbedingungen auf die Wartungskosten.
Diana Järve hat einen MSc-Abschluss in Hochbau und Gebäudetechnik (Chalmers University of Technology) und einen MSc-Abschluss in Bau- und Gebäudetechnik (Tallinn University of Technology). Bei FundingBox ist sie als Projektmanagerin tätig. Bevor sie zu FundingBox kam, arbeitete Diana als Projektmanagerin in den nordischen Ländern und betreute ehrgeizige und innovative Vorzeigeprojekte des weltweit führenden Entwicklers und Betreibers URW. Insgesamt verfügt Diana über mehr als 10 Jahre Berufserfahrung in verschiedenen Branchen (Infrastruktur und Wasserkraft, Gewerbeimmobilien und Unternehmensdienstleistungen) und Funktionen (Bauingenieur, Projektmanager, Innovationsberater).
Treten Sie der PLATOON Community bei und erfahren Sie mehr über das Projekt!